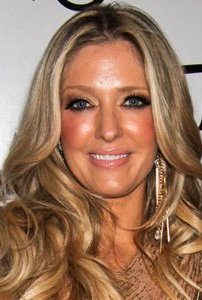 American actress and singer Erika Jayne first debuted in 2 episodes of Law & Order in the early 1990s. Her next role was in the 1995 TV movie Alchemy. This was followed by her first movie role in 1996's Lowball. Afterward, she guest-starred in an episode of High Incident. Starting her singing career, she released her debut single "Roller Coaster" in 2007. Her next song "Stars" was released the following year.
In 2009, her debut studio album Pretty Mess came out. She switched to reality television recently, becoming known as a cast member of the reality series The Real Housewives of Beverly Hills, which she's been in since 2015. While on the show, she continued her work as an actress. She starred in the TV film Sharknado: The 4th Awakens and played recurring role Farrah Dubose in the soap opera The Young and the Restless.
She's also appeared on live television specials such as Fashion Police, Live from the Red Carpet, and American Music Awards Red Carpet Live. In 2017, she joined Dancing with the Stars as a contestant. More recently, she's appeared as a host at the Billboard Music Awards Red Carpet Live. She was also a host at the American Music Awards Red Carpet Live.
Jayne follows a clean diet plan, but she also knows the need to indulge every now and then. "I've grown up disciplined all my life as a dancer, so I know how to eat and work out. Do I do it? No!" said the actress-reality star.
Nonetheless, she tries to stick to a healthy diet on most days. For breakfast, she likes to start her day with "egg whites, avocado, and grilled tomatoes." For lunch, she prefers having some chicken. Dinner is where she usually treats herself. "I'll eat pasta even though I'm not supposed to," said the celebrity.