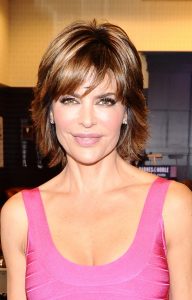 Hollywood star Lisa Rinna started her acting career during the 1980s. She debuted in the 1988 movie Captive Rage. In 1990, she played recurring character Annie Derrick in the NBC sitcom The Hogan Family. Rinna had her first starring role as Billie Reed in the soap opera Days of Our Lives, which she played from 1992 to 1995. She returned to the show in the 2000s, and then again from 2012 to 2013 and 2018.
Also in the 1990s, she gained recognition for starring as Taylor McBride in Melrose Place. She went on to play Contessa Valentina 'Val' de Allegro Fontaine in the TV film Nick Fury: Agent of Shield. The following decade, she had performances in the TV films Sex, Lies & Obsession, Oh, Baby, as well as in the feature film Good Advice. She went on to appear as a guest co-host on the morning talk show Live with Regis and Kathie Lee from 2006–2019.
In the 2010s, she became more active on reality television, first starring in Harry Loves Lisa. She next appeared as a contestant in The Celebrity Apprentice 4 and All-Star Celebrity Apprentice. As of 2014, she's part of The Real Housewives of Beverly Hills' main lineup. Despite her work on reality TV, Rinna continued acting with guest performances in The Hotwives of Las Vegas, CSI: Crime Scene Investigation, The Middle, and The Guest Book.
Turning 56 this year, the reality star dazzles in her youthful appearance. Her secrets? She does yoga consistently and she eats clean. Also, she doesn't incorporate diet, especially a strict one, into her lifestyle.
"I don't love to use the word diet because if I do, I'll just want to eat 10 times more," explained Rinna. "Moderation is key."
She continued: "I tend to call myself a dirty vegan. I'm mostly plant-based — but if I do need to eat some meat, I'll have it."