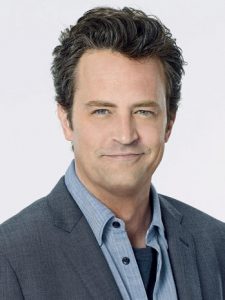 Hollywood actor Matthew Perry got his start in the late 1970s, debuting on the show 240-Robert. His first starring role on television was as Chazz Russell on the sitcom Boys Will be Boys, which aired from 1987 to 1988. Following this, he made his film debut in A Night in the Life of Jimmy Reardon. In the '90s, he starred as Billy Kells on the short-lived series Sydney and Matt Bailey on Home Free. He found worldwide success for his role as Chandler Bing on the award-winning sitcom Friends, which he played from 1994 to 2004. He earned several nominations for his role here, including a Primetime Emmy nomination for Lead Actor in a Comedy Series.
Simultaneously, he also starred in the films Fools Rush In, Almost Heroes, and Three to Tango. He also played Oz Oseransky in the films The Whole Nine Yards and The Whole Ten Yards. Following Friends finale, he continued his work on television, playing the titular role on the TV film The Ron Clark Story. He next starred as Matt Albie on Studio 60 on the Sunset Strip. In the 2010s, he starred as Ben Donovan on Mr. Sunshine, Mike Kresteva on The Good Wife, Ryan King on Go On, and Oscar Madison on The Odd Couple. More recently, he portrayed Ted Kennedy on the miniseries The Kennedys After Camelot. His latest film role was as Mike O'Donnell in 2009's 17 Again.
The actor has had a rough patch in his personal life that also involved his health. After struggling with addiction to alcohol and prescription drugs, the actor's physique was one of the casualties. During the past couple of years, fans also saw the Friends star gaining much weight. In an interview, he admitted that he wasn't taking care of himself. "In my case, it was hard living and drinking hard and eating poorly. You play, you pay," he said. After seeing the toll his unhealthy habits had taken into his body and overall well-being, he decided to make drastic changes in his lifestyle for the better. For one, he started eating more healthily. He focused on the consumption of lean proteins and whole grains and other foods that are nutritious. He cut down alcohol and other vices and straightened himself out. Now he feels healthier and more confident than ever.