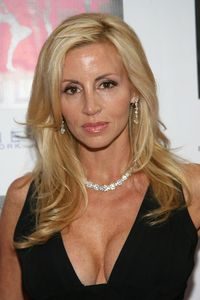 American TV personality Camille Grammer started her career in the 1980s, first appearing as a dancer in Club MTV. The following decade, she appeared in the film The Naked Detective. She then had roles in the movies Private Parts and Deconstructing Harry. At the same time, she had a one-time role in Frasier. She continued her acting career in the 2000s, having performances in the TV films Neurotic Tendencies, Mr. St. Nick, and A Christmas Carol: The Musical.
In the 2010s, she gained wider recognition as a cast member of the reality series The Real Housewives of Beverly Hills. She still appears on the show up to present. Simultaneously, she guest-starred in an episode of $h*! My Dad Says. Next, she appeared as a guest judge in 2 episodes of RuPaul's Drag Race. Other appearances on TV were on Betty White's Off Their Rockers and 90210. Her latest movie performance was in the 2014 parody film The Hungover Games.
The 51-year-old actress and reality star stays in shape by sticking to an active lifestyle. While she also follows a healthy diet, she also enjoys exercises. She loves outdoor activities, particularly hiking. "I usually go on a three-mile hike and sometimes I'll run for the last mile," said Grammer. Apart from the physical benefits of hiking, this also helps her reduce stress.
"When I hike, it gives me a chance to breathe and relax. It's my form of meditation," she explained. Her active lifestyle doesn't end there. She also engages in other activities as often as she can. "I also like to paddleboard," she added. "I believe being active is a wonderful way to live in the moment."