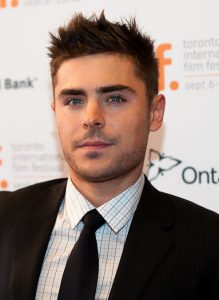 American actor Zac Efron entered the industry in the 2000s. His initial work included roles in movies and guest parts on television. His first lead role on TV was on Summerland. After this stint, he starred as Troy Bolton on the Disney TV movie High School Musical. This became an international hit and Zac became a teen sensation. He reprised his role as Troy in the sequels. This opened his career as a movie actor as he starred in Hairspray and 17 Again. He also played as a dramatic actor in Me and Orson Welles and Charlie St. Cloud. He became more active in the 2010s like in the romantic drama The Lucky One and romantic comedy That Awkward Moment. His latest films are Neighbors and its sequel and Dirty Grandpa, among others.
The 29-year-old actor is obviously no longer a teen sensation. He's all grown up and he's got his amazing physique to show that. It's no secret that Zac underwent a notable physical transformation that's got him looking hotter than ever. Apparently, he's now looking very masculine with his buff and chiseled-looking body. The actor worked hard to achieve this change and continues to invest his time and energy to maintain it. He works out regularly and eats well. The combination of nutrition and fitness is crucial in order to obtain positive results.
As for nutrition, the actor is now being more cautious with his diet. This is as part of his preparation for his role in the upcoming movie Baywatch. Because this is a role that requires him to take of his shirt a lot, he knows he needs to prepare more extensively. Eating right is vital in the equation apparently, which means he needs to follow a very clean diet. Fortunately, Zac is very transparent with his dietary regimen in preparation of Baywatch. This included 9 days of no zero carbs & sugar. Only organic grass fed/free range protein and organic leafy greens. Some of the meals he has is cinnamon curried wild Georgia shrimp over a vegetable and quinoa pilaf.