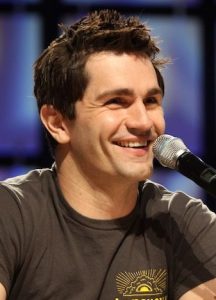 In 2001, Sam Witwer made his Hollywood debut in an episode of ER. He next landed guest roles in such TV shows as JAG, Arliss, Dark Angel, She Spies, and Angel, among others. His first notable role on the small screen was as Crashdown in Battlestar Galactica. After this, he played Neil Perry in some episodes of Showtime's Dexter. In 2006, he made his film debut in Crank.
After this, he appeared in more films, including The Mist, Pathology, Gamer, and No God, No Master. He also became known for his role as Davis Bloome in Smallville. In the 2010s, Witwer came to wider prominence thanks to his lead role as Aidan Waite in the TV series Being Human. At the same time, he was the voice of The Son / Darth Maul in the animated show Star Wars: The Clone Wars. Following this, he played Mr. Hyde in some episodes of Once Upon a Time.
He later landed the part of Benjamin Lockwood / Agent Liberty in the superhero series Supergirl. More recently, he played Mr. Chipping in Riverdale. His other works include the short film Wrestling Isn't Wrestling, as well as the feature film Officer Downe. In 2019, he had a voice role in the film Star Wars: The Rise of Skywalker. To add, Witwer guest-starred in other shows, including Grimm, Stalker, and Rosewood.
During his stint in Being Human, Sam Witwer kept his body in shape by following a vigorous workout routine. He combined cardio and weight training, though the latter was kept to smaller weights and more reps because he didn't want to overdo it. Working out is also a part of his day-to-day even when he's not training for a specific role. He enjoys other forms of cardio exercises like running and swimming, as well as sports and a lot of outdoor activities.