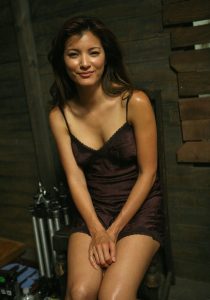 It was in 1987 that Hollywood star Kelly Hu got her start in the show business. She made her acting debut in 3 episodes of the series Growing Pains. She later made more guest appearances on television the rest of the '80s. She also made her big screen debut as Eva Watanabe in the movie Friday the 13th Part VIII: Jason Takes Manhattan. In the '90s, she had roles in the films The Doors, Harley Davidson and the Marlboro Man, and Surf Ninjas, among others.
She also became known for playing Rae Chang in the series China Beach and Insp. Michelle Chan in the show Nash Bridges. From 1998 to 2000, she played Grace "Pei Pei" Chen in the short-lived series Martial Law. Following this, she rose to mainstream fame for playing the female lead in the movie The Scorpion King. She went on to star in the action films Cradle 2 the Grave and X2. She later voiced Stacy Hirano in the animated series Phineas and Ferb. More recently, she had recurring roles in The Vampire Diaries, Arrow, and Teenage Mutant Ninja Turtles. Her latest role in a movie was in 2017's Maximum Impact.
Aging may have been inflicted her physical appearance some changes but the film and television star remains healthy and fit thanks to her active lifestyle. Now more than ever, Kelly knows that she has to be more active and disciplined when it comes to her fitness. For this reason, she makes sure she accomplishes her workout routine on a regular basis. She mixes things up, mostly, not wanting to get bored with the same exercise regimen.
According to her, she goes to the gym 3-4 times per week to exercise. It's not a problem for the actress because working out has been part of her lifestyle for years. It's one of the main reasons why she has maintained a toned figure in the first place. During her training, she mostly does kickboxing and karate. This helps her get herself ready in some of her roles that require action scenes, like in Arrow. In addition, the actress also revealed that she's into yoga as well.