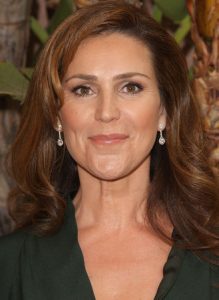 Hollywood star Peri Gilpin has been acting since 1988. She first guest-starred in an episode of 21 Jump Street. Her first starring role on TV came the following decade as Irene in the NBC sitcom Flesh 'n' Blood. She later gained wider recognition for starring as Roz Doyle in another NBC sitcom Frasier, which aired on TV from 1993 to 2004. Her role here was her first breakthrough on the small screen. In 1998, she made her movie debut with a voice role in the straight-to-video The Jungle Book: Mowgli's Story.
She next made her big screen debut in the feature film Spring Forward. She went on to star in the 2000 film How to Kill Your Neighbor's Dog, as well as voiced Lana Lionheart in the animated series The Lionhearts. After Frasier, she had performances in the TV movies Women of a Certain Age and For the Love of a Child. She returned to primetime as Kim Keeler in the TV series Make It or Break It.
She later had recurring roles in CSI: Crime Scene Investigation and Men at Work. She then played Eileen Taylor in the short-lived show Mr. Robinson. At the same time, she played recurring character Katherine Cooper in Scorpion. Her most recent film appearance was in 2016's Flock of Dudes. On TV, she starred in the made-for-television movie A Dash of Love and guest-starred in Broad City.
The actress keeps her body fit and healthy by living an active lifestyle. Despite nearing her 60s, she manages to maintain a toned figure all thanks to her workout routine. While she doesn't follow a rigorous fitness regimen, she does keep herself busy with some activities. Her workouts are mostly comprised of cardio and stretches. Also, if there's one thing she swears by, it's yoga. According to her, yoga has been the one to help her find physical and mental balance all these years.