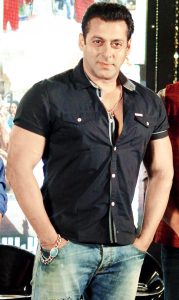 Bollywood actor Salman Khan is one of India's greatest stars. His acting career started in the 1980s. Since then he has established himself to be one of India's prominent actors. His first breakthrough was in 1989's Maine Pyar Kiya. This helped him get his bearing in Bollywood. In the '90s, he cemented his mainstream prominence with starring roles in box office hits. This includes Hum Aapke Hain Koun..!, Karan Arjun, and Hum Saath-Saath Hain. His performance in Kuch Kuch Hota Hai won him the Filmfare for Best Supporting Actor. Though he became less active in the 2000s, he had a comeback in the 2010s with prominent roles. This includes Dabangg, Bodyguard, Ek Tha Tiger, and Kick, among others. He's recently starred in the 2017 movie Hanuman Da' Damdaar.
The actor is already in his 50s, but he still manages to maintain his body. This is mainly because the actor works out regularly and has been doing so for years. For this reason, aging does not significantly affect his physique because he does all the necessary workouts. Essentially, the actor starts his workout session with warm-ups. He exercises 2-3 hours daily. He then follows a routine that's composed of weight training thrice in a week. He also performs cardio three times per week. He typically concentrates on working on his biceps, triceps, abs, legs and back.
Reportedly, the actor can perform 2000 sit ups or 1000 push ups or 500 crunches at a time. During Sundays, the actor prefers to rest, which is of course, vital in order for his muscles to have time to recover. His warm-up exercises usually consist of jumping jacks, squats and push ups. He then does deadlifts in order to define his back and leg muscles, while he performs bend press for his chest and biceps. He also does 4 sets of 6-8 reps for his arms, and 6 sets of 12-14 reps for his chest. To finish his regimen, he runs on the treadmill.