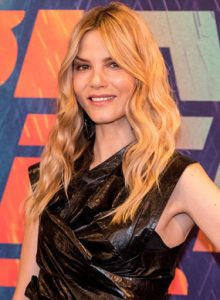 Hollywood star Sylvia Hoeks first started acting in her native Netherlands. She debuted in the made-for-television film Staatsgevaarlijk. She next starred on the TV series Vuurzee. She also starred in the Dutch movies Duska, Tiramisu, and The Storm. She later played the lead in the 2010 film Tirza. Following this, she had starring performances on the Dutch shows Bloedverwanten and Overspel. She continued her work on the big screen with roles in The Gang of Oss, The Girl and Death, The Best Offer, and Bros Before Hos.
She ultimately pursued a career in the US. In 2016, she played Claudia Gartner in 2 episodes of the American series Berlin Station. She next starred as Luv in the film Blade Runner 2049, co-starring Harrison Ford and Ryan Gosling. This gained her mainstream attention. That same time, she starred in the movie Renegades. In 2018, she played Camilla Salander in the film The Girl in the Spider's Web. She also starred in the movie All the Devil's Men. She will star as Queen Kane in the upcoming web series See.
The Dutch actress practices a healthy diet plan. It helps her stay in shape and feel good from the inside out. Most of the time, she avoids meat and usually focuses on a plant-based diet. She gets her protein from fish instead. "When I eat meat, it's usually a burger. Otherwise, I really only eat fish or vegetarian. My stomach gets upset if I eat a chunk of red meat, so I learned a long time ago that that wasn't for me," said Hoeks in an interview.
"In my home country (Holland) people grow up with cheese, bread, and milk. I try to avoid eating too much bread now, especially for lunch because bread makes me tired. A burger, in the end, is my feel-good food so I don't mind a bit of sleep while digesting it."