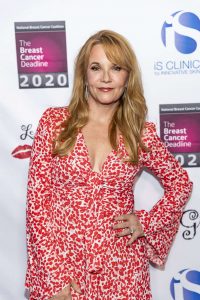 Actress Lea Thompson has been acting since the '80s. Her early credits include roles in the films Jaws 3-D, Red Dawn, and The Wild Life. Her role as Lorraine Baines McFly in the film Back to the Future became her breakthrough. She reprised the part in the sequel Back to the Future Part II and Back to the Future Part III, released in 1989 and 1990 respectively. In the 1990s, she had roles in the films Dennis the Menace, The Beverly Hillbillies and The Little Rascals.
She then found success on television playing the lead in the NBC sitcom Caroline in the City from 1995 to 1999. Afterward, she starred as Chief Dep. Dist. Atty. Camille Paris on the legal drama series For the People. She next had notable performances in the movies California Dreaming, Spy School, Exit Speed, and Splinterheads.
Her active career continued in the 2010s, this time starring as Kathryn Kennish on the TV series Switched at Birth. She also played recurring character Veronica Dineen in Scorpion. More recently, she's had roles in the comedy films Literally, Right Before Aaron, The Year Of Spectacular Men, and Sierra Burgess Is a Loser.
Apart from her workout routine, the actress stays in shape by eating well. As a general rule, she stays away from processed and junk foods, especially those high in sugar. "I don't do a lot of sugar," said the actress. "I eat what's natural. I don't drink and I don't smoke." That's why she prefers making her own meals as this ensures that all the ingredients are fresh and healthy. Her diet plan primarily consists of lean meat, whole grains, and plenty of fruits and vegetables. She also munches on healthy snacks like almonds and blueberry. She does have some cravings, which she allows herself to have every now and then.