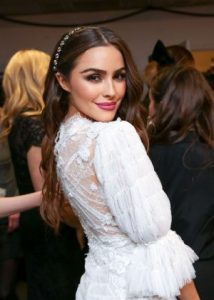 Former Miss USA and Miss Universe Olivia Culpo has since started a career in modeling and acting. In 2014, she made her cinematic debut with a small role in the film The Other Woman. That same year, she appeared in the music video of Nick Jonas' single "Jealous".
More recently, she's had performances in the films American Satan, I Feel Pretty, Tired Lungs, and Reprisal. She's also appeared as herself in the TV shows Hell's Kitchen and Model Squad. As a model, she's been featured in the 2018 Sports Illustrated Swimsuit Issue. She's also appeared in ad campaigns for such brands as L'Oréal and Kipling.
The celebrity keeps herself fit and healthy by following an active lifestyle. She works out on a regular basis, regardless of how busy she gets. Since winning the Miss Universe crown in 2012, Culpo has kept herself in top shape by doing a yoga-like routine that targets every area of her body. In an interview with Stylecaster, she's also revealed about Pilates and kickboxing being her go-to workouts.
With this, she's able to maintain her slender figure and build her core strength. Kickboxing has been a proven workout routine for the actress-model. Hence, she continues to do it, performing it with diligence and discipline. In an article she wrote for Byrdie, she talked about how she incorporates yoga-like stretches, pushups, and planks into her workout regimen.
Additionally, her exercise routine also involves lots of cardio, which helps a great deal when it comes to building core strength and ensuring overall fitness. As for her workout advice, she revealed how she needs to exercise with someone she likes. "There are a lot of blood, sweat, and tears (sometimes) that go into those early morning workouts, so it's important to make sure you've got the right person by your side!" she said.