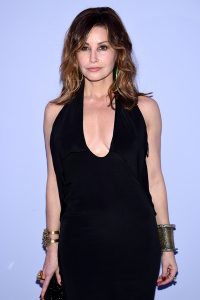 Hollywood star Gina Gershon has been acting since 1981, starting as an extra. She landed her first credited role in 1987's Sweet Revenge. She later gained recognition for playing the role of Coral in 1988's Cocktail. During the 1990s, she had notable performances in the films Out for Justice, City of Hope, The Player, and Joey Breaker. She later gained wider recognition for her role as Cristal Connors in the film Showgirls. She next starred in the movie Bound. She subsequently starred in the movies Touch, Face/Off, Guinevere, and The Insider. She then starred as Glenn Hall on the short-lived series Snoops.
The following decade, she starred on the short-lived show Tripping the Rift and had recurring roles on Ugly Betty and Rescue Me. In the 2010s, she became further known for her role as Nancy Frankenburg on How to Make It in America. She also played The Mother on Cleaners. From 2015 to 2016, she starred as Fay Getty on Red Oaks. More recently, she played recurring character Lt. Melanie Hawkins on the sitcom Brooklyn Nine-Nine. She currently plays Gladys Jones on Riverdale. Back in the movies, she's also performed in the films The Scribbler, Permission, Inconceivable, 9/11, Blockers, and After Everything.
The actress stays healthy by following a clean diet plan and exercising. Despite her crazy schedule, she manages to squeeze in some time for her to do some workouts. One of her go-to exercises is yoga. "I've been doing yoga for 25 years; that's helped a lot," said Gershon. Her workout routine also heavily involves a lot of cardio. Plus, she's a naturally active person who loves being outdoors. As for her another secret in her staying fit and gorgeous at age 56? "If you're living a great life and having sex with someone you're madly in love with, that is key," revealed the actress.