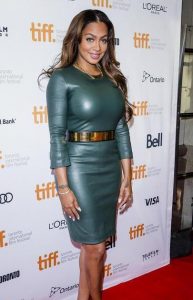 Actress and TV personality La La Anthony has been in the show business since she was 15. She first began her career on radio. She eventually transitioned to film and television. In 2001, she made her film debut in Two Can Play That Game. This was followed by the film Urban Massacre, after which she appeared on the MTV show Total Request Live. From 2002 to 2006, she hosted the show Direct Effect. She then made appearances in the films You Got Served and Soul Plane.
Continuing her hosting career, she hosted Real World/Road Rules Challenge: The Inferno and Real World/Road Rules Challenge: Battle of the Sexes 2. She was the host of a variety of other reality shows, including Flavor of Love, Flavor of Love 2, I Love New York, Flavor of Love Girls: Charm School, and I Love New York 2, among others. In 2010, she starred in the direct-to-video film Gun.
She next starred in her own reality series La La's Full Court Life from 2011 to 2014. At the same time, she had performances in the films Think Like a Man, Baggage Claim, 1982, Think Like a Man Too, and Chi-Raq. As of 2014, she stars as Lakeisha Grant on the TV series Power. Her latest film roles were in 2017's Double Play and Deuces.
Apart from her diet plan, the celebrity stays in shape by doing exercises regularly. She hits the gym where she does her high-intensity workouts as consistently as possible. In an interview, she also revealed that one of her go-to workouts is boxing.
"I'm still in The DogPound, boxing, but I do flywheel sometimes too," said the actress. "I believe consistency is the key with everything that you do. So, the more you do it, the better you get and the stronger you get." Lately, she's also started cryotherapy, which is the use of cold temperatures to reap several health benefits.