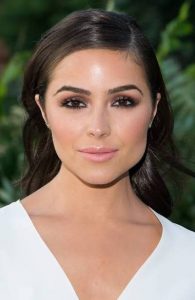 Olivia Culpo first came to prominence after winning the Miss USA title in 2012. She later competed in the Miss Universe pageant, where she also won the title. She became the first representative from the US to win the title since 1997. She went on to venture into modeling, having worked for brands such as L'Oréal and Kipling. She has also pursued a career in acting. In 2014, she had a cameo appearance in the film The Other Woman. She also appeared as herself in the music video Nick Jonas: Jealous.
Her first acting role was in the 2017 supernatural thriller film American Satan. She played the role of Gretchen in the movie. She next played the role of Hope in the comedy feature I Feel Pretty starring Amy Schumer and Michelle Williams. At the same time, she played Kate in Tired Lungs and Christina in the heist film Reprisal starring Bruce Willis. On TV, she had appearances in the reality show Hell's Kitchen and the documentary series Model Squad.
Model-actress Olivia Culpo maintains her healthy figure by watching what she eats. When she has her meals, she makes sure that most of them are healthy ones. "It's typically a salad of some sort with vegetables, chicken, or salmon. It helps sustain energy and I won't feel really lethargic after having it because it's light and there are a lot of nutrients. I also love Kind bars, raw cashews, bananas, and apples," said the celebrity.
However, she also admits that she has on-the-go foods when she's alone. Her snack choices also consist of healthy foods. She particularly loves to snack on almonds and fruits like banana and pineapple. When it comes to her veggies, she likes them steamed instead of raw. And her go-to drinks are "ginger kombucha or green juice with extra ginger." Her random food cravings? Peanut butter and jelly sandwich!