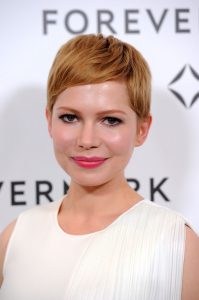 American actress Michelle Williams began her career in her teens. Her first movie was in the family movie Lassie. She next obtained wider recognition in the late 1990s to early 2000s. This is courtesy of her starring role on the popular drama Dawson's Creek. After the show, she focused on acting in the movies. Her supporting role on Brokeback Mountain earned her critical praise. She received her first Oscar nomination for Best Actress for her role on Blue Valentine. She was also acclaimed for her performance in My Week with Marilyn. She recently starred on Broadway, as well as in the movie Suite Française.
Michelle is a prolific actress and is also a mother to a daughter. Though she's not like other actresses with slender bodies, Michelle is sexy by being confident of her curves. She also knows that being healthy is more important than just looking slim. Amazingly though, the actress gained weight to have more curves for her portrayal of Marilyn Monroe in My Week with Marilyn. As she's an actress and changing her physical appearance for a movie is part of the job. So, she lost weight for her role in Oz the Great and Powerful.
To gain some more pounds to adds some curves into her body, the actress ate high-fat foods all day long. She also gained weight while shooting Blue Valentine to make it realistic of her being a wife and a mother after some time in the movie. In order to achieve this, it was reported she would eat a pint of ice cream for breakfast and dinner and avocado sandwiches all throughout the day. Normally, Michelle tries her best to eat fresh and healthy foods. Being a mom and in her 30s, she knows it is more important for her to only consume nutritious foods.