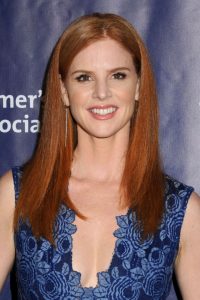 American TV actress Sarah Rafferty has mostly established her career on the small screen. Starting the late 1990s up to the 2000s, she mostly had guest roles on various television shows. She also starred in the TV movies Football Wives and What If God Were the Sun?. She also appeared in the movies Soccer Dog: European Cup and Falling for Grace during this period. Her career breakthrough only came in 2011 when she joined the main cast of Suits. She plays the role of Donna Roberta Paulsen on the show, which she still portrays up to present. The show has since become famous, making her popular as well. She recently starred on the TV film All Things Valentine.
The actress may be in her mid 40s, but she sure looks younger than her actual age. She even has a very slender and toned figure that she can be mistaken to be in her early 30s. She looks this way because she takes care of herself well. She knows that avoiding unhealthy habits means she stays in shape. For this reason, she tries her best to only eat clean and nutritious food. But she's more of a do-it-yourself when it comes to healthy eating.
She said that at the start of the week, she makes a big pot of vegetable soup. She keeps this on hand for fast and healthy meals as she gets busier later in the week. Of course, she can't just have soup. So, she adds brown rice one day and ground turkey the other. But if there's one food she always has, it's almonds. She just doesn't have healthy nuts regularly, she also has almond milk, almond butter, and dark chocolate covered almonds to munch on during snack sessions. When she's very busy, she contents herself with protein shake.