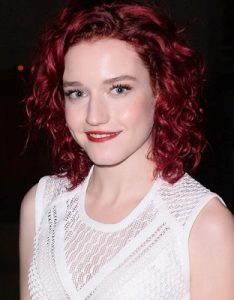 Hollywood actress and model Julia Garner got her acting start in the 2010s. She first acted in a few short films. She later made her big screen debut in the independent film Martha Marcy May Marlene. In 2012, she had roles in three films – Electrick Children, The Perks of Being a Wallflower, Not Fade Away, and We Are What We Are. Following this, she played the role of Gwen in The Last Exorcism Part II.
She then starred in I Believe in Unicorns and played Marcie in Sin City: A Dame to Kill For. In 2015, she became known among television audiences for her recurring role as Kimberly Breland in The Americans. She's also starred in the movies Grandma, Good Kids, One Percent More Humid, and Everything Beautiful is Far Away. She even played Ruth in Ozark's first season. This year, she starred in the miniseries Waco and will star in the upcoming web series Maniac.
The 24-year-old actress takes care of her body and overall health by choosing to follow a clean diet plan. Despite her young age, she's conscious of the food that her body consumes. Most of the time, she makes sure that the meals she eats are natural and made from whole foods. She stays away from processed and junk foods as much as she could, though she still has cravings she indulgences in every now and then. She also practices portion control as overeating can easily sabotage her figure.
In the mornings, the actress likes eating healthy breakfasts like eggs or whole grain oats. Healthy breakfasts keep her energy high the rest of the day, which, as an actress and a model, she badly needs. For lunch, she prefers fish or chicken for their protein with veggies on the side. For dinner, she goes light with a soup with some pasta or sandwich. In all her meals, she always incorporates vegetables and fruits to keep her meals balanced and healthy.