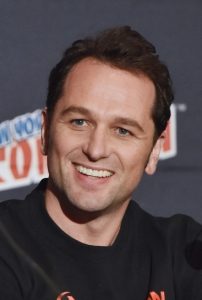 Welsh actor Matthew Rhys is now a staple name in Hollywood. This is all thanks to his role as Philip Jennings on the TV series The Americans. He's actually started his acting career in 1999. This is with roles in the films Titus and Whatever Happened to Harold Smith?. He went on to appear in other films in the 2000s. He got his breakthrough on television. This was after landing the role of Kevin Walker on the drama series Brothers & Sisters. While on the show, he portrayed Dylan Thomas in the movie The Edge of Love. In the 2010s, he portrayed Mr. Darcy on the miniseries Death Comes to Pemberley. He became further known for his role as Philip Jennings on the TV series The Americans.
The 43-year-old actor admits to being carefree when it comes to his diet. However, for his role as a Russian spy in The Americans, he also confesses to undergoing a stricter diet. Despite being based in the US for his role, the actor is not into Hollywood fads when it comes to dieting. He just eats more healthy when he's working, though he also admits he's not a fan of his strict diet. He confessed to being a "junk food junkie". Every time he returns to Wales to spend time with his family, he has fish and chips every time.
This gets him excited to have his vacation because it's the only time he can have anything he wants. Recalling the strict diet he had to undergo while working for the show The Americans, he said: "It was miserable. I had to eat porridge and sweet potato and no carbs in the evenings. I stuck to it for about two-and-a-half days. Every food that's bad for you was calling out my name." Despite this, it turned out really well for the actor. He's able to develop an impressive physique on the show thanks to his discipline when it comes to choosing the right foods when he's working.