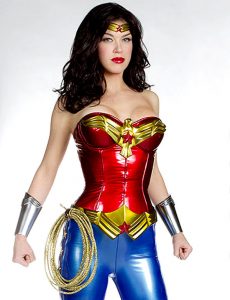 Adrianne Palicki is an actress whose career in Hollywood took an interesting turn when she got a recurring role on Supernatural. After this, she starred on the short-lived series South Beach before getting recognition for joining the main cast of the TV series Friday Night Lights. On the show, she played the role of Tyra Collette for several years. This then led her to land roles in the films Legion and Elektra Luxx. She was cast as the titular character in the pilot for the show Wonder Woman, which never aired. She instead starred in the movies Red Dawn, G.I. Joe: Retaliation, and John Wick. Her most recent role on the small screen was on Agents of S.H.I.E.L.D..
Being chosen for the role of Wonder Woman means that you have to be notably attractive while looking fierce at the same time. That is how Adrianne projects herself. Though it is unfortunate that Wonder Woman was not picked up by its network, it gave the actress' fans the opportunity to see her in a Wonder Woman costume. With her strong presence on the screen, it is not surprising that she's already been in a couple of action-oriented films. In the movie G.I. Joe: Retaliation, she played Lady Jaye. For the particular character, the actress prepared her body not only to look more attractive but also to become leaner and fitter.
"We had to do gun training and weapons training, stunt training and muscle-building training. It was a lot of work in the beginning," the actress shared in an interview. "I would come home crying because we're all working 10 hours a day, running around with guns, and cry myself to sleep. But it ends up being fun. I have a real respect for men and women who actually do this day in and day out and actually have their lives on the line. It's crazy," she added. According to her trainer, Adrianne's goal was to keep her core strong and to ensure she was as geared up as completely as possible because of the extent of action scenes she was required to do. Carrying weapons while doing her scenes made it more challenging, but in the end, it only taught the actress to be stronger and value her strength.