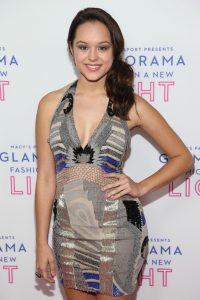 American actress and singer Hayley Orrantia started her professional career in the 2010s. She first performed background vocals for Demi Lovato for the soundtrack of Disney's Camp Rock 2: The Final Jam. She also sang background vocals for the Hannah Montana Forever soundtrack. Meanwhile, her first acting role was in a television commercial. In 2011, she made her film debut in the independent feature Cooper and the Castle Hills Gang.
The movie was screened at the Dallas International Film Festival. That same year, she appeared on The X Factor as a contestant. Deciding to pursue acting, she auditioned and was cast for the role of Erica Goldberg in the ABC period sitcom The Goldbergs. She still plays the said role until the present, which has since gained her mainstream recognition. She simultaneously starred in the film God's Not Dead 2. In addition, she has appeared in the reality shows Celebrity Name Game and Hell's Kitchen.
The 24-year-old celebrity tries her best to practice an active lifestyle. While she admits that eating healthily is a challenge, exercise is something that she's more motivated to do. "Obviously exercise is good, but I feel like the first step and the easiest one is actually making better choices on what you eat and being aware of that," said the actress-singer. She also keeps herself fit even while on set.
"I'm really bad about doing your typical abs and squats and things like that so I have to take classes and I just got addicted to this step class, which I know for like my age group is not really normally the thing to go to, but it is so fun because in high school I was a dancer so it's kind of like combining a little bit of choreography and it's a mental thing as well as physical. It's a lot of fun," she explained.