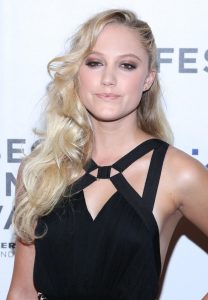 It was in 2012 that Maika Monroe got her professional beginnings in Hollywood. Her film debut was in the movie At Any Price. She followed this up the following year with a couple of other roles on the big screen. She gained further recognition in 2014 courtesy of her roles in the action film The Guest and most notably in the horror feature It Follows. For her performance in the latter, she was nominated for an Empire Award for Best Female Newcomer. She has since starred in major productions in Hollywood, such as in The 5th Wave and Independence Day: Resurgence, the latter of which she played the role of Patricia Whitmore.
The American actress is notably slim and fit at the same time. This made her more appealing, getting more noticed in Hollywood considering she's also talented as an actress.Though she's still young, Maika makes it a point to exercise s regularly as she can. She believes that working out is not only to achieve a slim body, but also to improve her health, which is vital when playing her roles in movies. Her recent roles in the movies The 5th Wave and Independence Day: Resurgence saw Maika looking slimmer and leaner, making it more fit for her to play action-oriented scenes.
To prepare for this, she did more cardio exercises and some basic fighting training, including how to hold weapons, S.W.A.T. training and boot camp. She experienced to be more physical than ever, exerting physical efforts as much as she could. No wonder she looked so badass in both those films, establishing her as a versatile actress. As she's preparing for a new part in a movie, she's doing surf training. "I am great at kiteboarding, but I'm not great at surfing. So I'm working on that," the actress added.