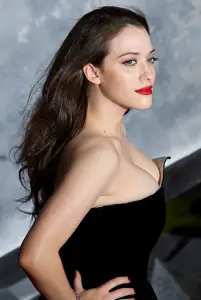 Kat Dennings is now a television staple courtesy of her role as Max Black on the sitcom 2 Broke Girls. Prior to this, she was already a prolific actress both on the small screen and movies. Her first regular role came immediately a year after her debut when she got cast on Raising Dad. In the movies, she was first noticed for her role in the comedy The 40-Year-Old Virgin. Subsequently, she played supporting roles in Big Momma's House 2 and The House Bunny before landing her first lead in Nick and Norah's Infinite Playlist. She returned to television in the 2010s with a lead role on 2 Broke Girls. She's also best known for her role in Thor and Thor: The Dark World.
The actress may not be slim unlike other young stars in Hollywood but Kat knows how to catch attention with her vivacious body. It's amazing how the actress has embraced her body despite pressures in Hollywood and how she managed to be recognized as one of the hottest in the industry even though she's not 'traditionally' thin. Aside from eating healthy and clean foods, the comedic actress likes to exercise to make sure she shed those extra, unwanted pounds.
For one, the actress is proud that she was able to change her diet to a really healthy one. It should only be fitting that she also exerts more efforts when it comes to her physical activities. She goes to the gym whenever she has the time to do so, to run on the treadmill and do crunches. She also makes it a point to be physically active in her normal life because mundane activities like walking and climbing the stairs are also good form of exercises. In addition, she enjoys playing sports and going to outdoor activities, which makes exercising for her totally not boring.