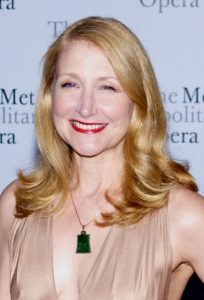 Patricia Clarkson's career in Hollywood spans decades, starting in the 1980s. Her first cinematic role was in Brian De Palma's acclaimed film The Untouchables. She next starred in the films The Dead Pool and Everybody's All-American. In the 1990s, she landed roles in such movies as Tune in Tomorrow and Pharaoh's Army. She also played Carol Anne Parrish in Jumanji and Melinda Moores in The Green Mile. During this period, she also starred in several television films. Her first regular role on a television series was as Annie Hoffman in Murder One.
In the 2000s, she became further known for her role as Sarah O'Connor in Six Feet Under, winning her two Primetime Emmy Awards. In 2003, she starred in the film Pieces of April and received her first Academy Award nomination for Best Supporting Actress. She has since starred in the films Good Night, and Good Luck., All the King's Men, No Reservations, Lars and the Real Girl, and Vicky Cristina Barcelona, among others.
In the 2010s, she had notable performances in such movies as Shutter Island, Friends with Benefits, and Easy A. She also played Ava Paige in The Maze Runner film series. Other films include The Bookshop, Jonathan, Delirium, and Out of Blue. From 2017 to 2018, she also starred as Jane Davis in Netflix's House of Cards. She later starred as Adora Crellin in the HBO miniseries Sharp Objects. For her role here, she won the Golden Globe for Best Supporting Actress.
Patricia Clarkson considers herself health conscious and her preference of healthy habits is also something that comes naturally for her. For instance, she actually craves for organic foods. As for her fitness, she sticks to simple exercises like walking. She also spends more time walking her dog. "I take my dog Beaux out four times a day. We change our routes all the time–sometimes we go to Central Park, or down a street I haven't taken in a while, though I also like to just do the rounds in my neighborhood," said the actress.