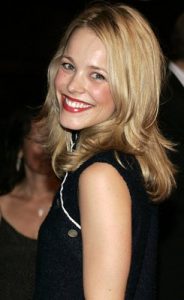 Canadian actress Rachel McAdams started out in her native country, but was soon discovered to be too talented and charming to not share her beauty and skills on a wider audience scale that is Hollywood. Her debut in the US was in the comedy The Hot Chick, but it was in the films Mean Girls and The Notebook that she achieved international stardom with both movies becoming critical and commercial successes. With her newfound fame, she ultimately secured lots of starring roles in well-known films, including Wedding Crashers, Red Eye, and The Family Stone. After a hiatus, she continued her famed career with the films State of Play, The Time Traveler's Wife, and Sherlock Holmes. In the 2010s, she starred in the romantic drama The Vow and the sports drama Southpaw. She also recently starred on the HBO series True Detective and the award-winning movie Spotlight, where she was nominated for an Oscar for Best Supporting Actress.
The 37-year-old actress still looks good despite the fact she's nearing her 40s. Throughout her career in the show business, she has managed to stay slender while looking lean and fit at the same time. How does she manage to stay so flawlessly hot considering she's too busy with her acting career? For one, living healthy has been part of Rachel's lifestyle ever since. Even when she was just in her 20s, she has already recognized the necessity to stay fit through healthy eating and workouts.
Cardio exercises are part of her daily routine. From running to swimming to talking long walks, it is important for the talented actress to take care of herself through physical activities. She's also very keen in sports and other outdoor engagements that challenge her body to be mobile. For her other roles in movies where she'd need to do more physically challenging roles, she'd also take greater lengths to make sure she can handle it, such as attending high-intensity circuit training classes.