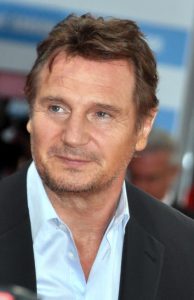 Hollywood actor Liam Neeson got his start during the 1970s where he acted in the films Pilgrim's Progress and Excalibur. In the '80s, he had roles in the movies The Bounty, The Mission and had his first lead role in 1989's Next of Kin. He rose to fame in the 1990s after starring as the titular character in Steven Spielberg's 1993 film Schindler's List. He next starred in the movies Michael Collins, Les Misérables, and portrayed Qui-Gon Jinn in Star Wars: Episode I – The Phantom Menace.
In the 2000s, he had notable roles in Gangs of New York, Love Actually, and Kingdom of Heaven. He went on to play Ra's al Ghul in Batman Begins. He became prominent as an action star when he starred as Bryan Mills in the film Taken. He has since reprised his role in Taken 2 and Taken 3. He's also starred in many other action films in the 2010s. This includes Unknown, Non-Stop, A Walk Among the Tombstones, and Run All Night. Recently, he portrayed Mark Felt in the film Mark Felt: The Man Who Brought Down the White House. This year, he starred in the movies The Commuter and Widows.
How is it that the 66-year-old Liam Neeson can still pull off kick-ass action scenes on many of his action movies? He continues to up his workout routine even now. He doesn't stop staying active and being fit is part of his daily lifestyle. In an interview, Neeson joked about getting paired with younger actresses in Hollywood and how this motivates him to continue his workout routine.
"I've got a couple of bed scenes with Olivia (Wilde)—so, yep, the push-ups continue," he said. He went on to say: "When I'm in the city, I do eight miles around the park with a walking partner. I do an extra loop—and the usual boring push-ups and sit-ups." He even joked about his age, saying "60 is the new 40". Looking at the actor, pretty much, yes.