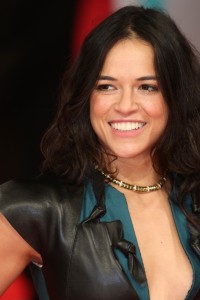 American actress Michelle Rodriguez is widely known for her tough look, which makes her a staple in action and adventure films. She was already in her 20s when she made her acting debut and quite made a good impression when she acted in her first movie, the indie movie Girlfight in 2000, a role that earned her an Independent Spirit Award for Best Debut Performance. Mainstream success immediately followed after earning a supporting spot in the blockbuster hit The Fast and the Furious. She has since starred in the movie's subsequent sequels, the latest of which was Furious 7 released in 2015. Other notable roles on cinema were in Resident Evil and Blue Crush in 2002, S.W.A.T. in 2003, Battle in Seattle in 2007, Avatar in 2009, Machete in 2010, Battle: Los Angeles in 2011, and Machete Kills in 2013. She has also acted on the small screen, most prominently in Lost.
Standing at 5'5, the 37-year-old actress is certainly a well-known actress in Hollywood. The awesome thing about her is that she's recognized for mostly starring in action-oriented films, which she does naturally and greatly, thanks to her ferocious beauty and athletic body. Of course, she's blessed with incredible genes, but Michelle also maintains her figure through physical training and other exercises, and eating clean and healthy. For one, she recognizes the importance of implementing a natural and a clean diet.
With this, she's fond of whole foods and is proud to be a meat-eater. She regularly consumes free-range chicken and fish as her source of proteins. She balances her meat diet with vegetables as well, in which she eats broccoli, spinach, and beets for veggie nutrients. Interestingly, Michelle also admitted to trying out Master Cleanse before, a kind of cleansing that according to her, "sucked". She claimed it helped her get cleansed, but didn't like the overall effect on her because it was too stiff and strict, something she did not enjoy and avoided her from being with her friends.