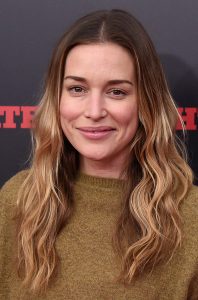 Hollywood star Piper Perabo got her start in the late 1990s with her film debut in Whiteboyz. Subsequently, she gained recognition for her lead role in the romantic musical film Coyote Ugly. She has since starred in the movies The Adventures of Rocky and Bullwinkle, Followers, Lost and Delirious, and Slap Her… She's French. She became also known for playing Nora Baker in Cheaper by the Dozen and Cheaper by the Dozen 2.
She next had starring roles in the movies 10th & Wolf, First Snow, The Prestige, Because I Said So, Beverly Hills Chihuahua, The Lazarus Project, and Carriers. On television, she's best known for playing the lead in the USA Network series Covert Affairs. Afterward, she starred as the lead in the short-lived series Notorious. In the 2010s, she starred in the features Into the Grizzly Maze, Looper, Black Butterfly, and Angel Has Fallen.
Apart from her healthy diet plan, the film and television actress also keeps her figure slim, toned, and fit by working out. She also tries to do as regularly as possible. Being an actress, training for a specific role is also part of her job. For her role in Covert Affairs, she upped her workout regimen in order to play a secret agent, which of course, required her to do a lot of action scenes. In order to play her scenes effectively, she needed to bulk up a bit and improve her strength and agility.
In an interview, she talked about how she prepped her body for the said role. She revealed: "In the morning before work, I like to swim laps and do yoga. At the end of the day, if it's still light, I love an evening run in the park." She also shared how her trainer helped her in terms of keeping her motivated. "I'm still trying to be able to jump rope like a boxer, and it is so hard for me! But she smiles and keeps reminding me not to get frustrated. By just showing up to exercise, you've already done the hardest part. Everything comes with practice," she said.