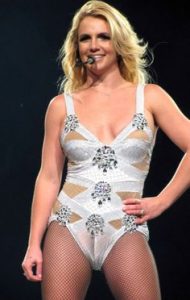 Pop princess Britney Spears started singing at an early age. It was also at a young age that she began her career. She appeared as a contestant on Star Search. She next joined the regular cast of The Mickey Mouse Club. After signing with a label in 1997, she released her first ever album Baby One More Time in 1999. Her debut made her an international star. This spawned the title track "…Baby One More Time". Her next album Oops!… I Did It Again was also a huge success for her. Her third album was Britney and the fourth one was In the Zone. She had a hiatus in the mid 2000s due to her personal troubles. Her comeback was 2007's Blackout. She has since released 4 studio albums after that. The latest is 2016's Glory.
Britney may be in her mid 30s now, but she still has the figure to kill for. While her body has surely changed since giving birth to two kids with former husband Kevin Federline, she has since managed to keep it toned. In fact, recent performances on stage testify that not only does she still has the moves, she still has the incredible physique. It wasn't very easy for the singer-actress. She had a low point in her life personally and during this time she also gained weight. But she managed to put all that behind her now and she's healthier than ever.
As expected, Britney works out regularly with her dancing. With lots of performances, you can expect her to rehearse everyday. She also goes to the gym regularly and has a personal trainer to help her keep up. Surprisingly, the celebrity attributes her sleek and toned figure to yoga. She does yoga twice a week. She performs a different mix of yoga poses during each 60- to 90-minute session. Her practice of yoga focuses on core or relaxation, but sometimes it becomes more physical. The moves being done sculpt the shoulders, core, and lower body while boosting flexibility.