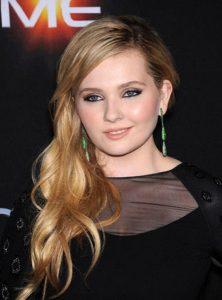 American star Abigail Breslin was only three when she did her first gig in a commercial. This eventually led to a film career. She made her big screen debut as Mel Gibson's daughter in Signs. She next starred in the movie Raising Helen. She was ultimately acclaimed for her role in the film Little Miss Sunshine. Her role in the movie earned her an Oscar nomination for Best Supporting Actress. The rest of the 2000s saw her starring in the films No Reservations, Kit Kittredge: An American Girl and Zombieland. In the 2010s, she starred in the features New Year's Eve, Ender's Game, August: Osage County, and Perfect Sisters. As of 2015, she also stars as Libby or Chanel #5 on the TV series Scream Queens.
The 20-year-old is confident of her body regardless of body shamers out there. She has been vocal about the pressures of being slim not only in Hollywood, but as a whole. She had defended fellow celebrity Selena Gomez after the singer was criticized by a hater about her body. She had even spoken about a fitness center's body-shaming ads. The fierce actress said in a post:
"You should be ashamed of yourselves. Things like this are the reason 9 year-old-girls develop eating disorders. Working out should be something you do for yourself, your health, and your mind, and body, not because a corporation declares your body shape isn't what girls should look like."
The actress herself has had enough with how girls are required to be slender. The actress has experienced such issues herself, which makes her more sensitive about it. Struggling with maintaining a healthy weight, she resorts to eating healthy and working out. She makes sure that she moves around with exercises that can help her sustain a healthy body. She believes that working out is not solely for losing weight, but to be overall healthy as well.