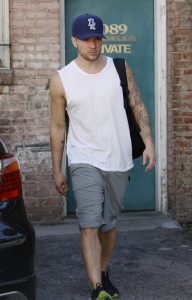 American actor Ryan Phillippe started his Hollywood career on the soap opera One Life to Live. He soon earned recognition for his starring roles on the big screen in the 1990s. Most notably in I Know What You Did Last Summer and Cruel Intentions. Continuing his acting career in the 2000s, he starred in Gosford Park, Crash, Flags of Our Fathers, and Stop-Loss. He became less prolific in the 2010s, mostly starring in independent and straight-to-video films. Returning to television recently, he stars as the lead on the TV series Secrets and Lies. He will also star as the lead in the upcoming series Shooter.
He may be turning 42 this year, but it is obvious how the actor hasn't seemed to age. Since the 1990s, he was able to maintain his lean physique and fit level of masculinity. He looks so young for his age he looks like his kids' older brother. For one, Ryan makes sure he takes care of himself. From his healthy eating and regular workout routine, the handsome actor never misses an opportunity to ensure he maintains his toned physical self. Basically, he performs diverse workouts to always maintain a variety in his routine.
This way, he still feels excitement and challenge in his physical sessions. Firstly, he keeps his weight training in momentum. This helps him maintain his chiseled-looking figure. To take care of his strength and stamina, he never misses on cardiovascular exercises. In addition to weight training, hitting the gym with a trainer, and cardio, he also works out by using plyometrics. Not only do these routines challenge him physically, these also bring mental workouts that he finds truly beneficial. Ryan knows the importance of working out regularly, that's why he makes it a point to have time regardless of his busy schedule.