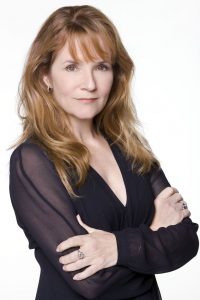 Hollywood actress Lea Thompson got her start in the 1982 straight-to-video film MysteryDisc: Murder, Anyone?. She next played Kelly Ann Bukowski in the movie Jaws 3-D. She later starred in the films All the Right Moves, Red Dawn, and The Wild Life before making it big in Back to the Future. In this hit movie, which has since been a classic, she played the role of Lorraine Baines McFly. She reprised her role in the sequels Back to the Future Part II and Back to the Future Part III, released in 1989 and 1990, respectively. This made her widely recognized in the show business.
Other notable roles in the '80s were in SpaceCamp, Some Kind of Wonderful, and Howard the Duck. The following decade, she became best known for starring as lead role Caroline Duffy on the NBC sitcom Caroline in the City. She also starred in the movies Dennis the Menace, The Beverly Hillbillies, and The Little Rascals. She continued acting in the 2000s, first playing Camille Paris on the show For the People. She later starred as Cathy Davis on the Jane Doe TV anthology series. In the 2010s, her best-known role was as Kathryn Kennish on the ABC Family series Switched at Birth, which she played from 2011 to 2017. She's also guest-starred on A to Z and Scorpion.
The 57-year-old actress keeps herself fit, young, and healthy by sticking to an active lifestyle. She works out, she practices yoga, and she also eats clean. Talking about her workout routine, she said: "When it comes to my body, lately I take a lot of yoga, which reduces stress and keeps you in touch with your body. I'm really happy with yoga." Another fitness secret? Dancing. "it's the best workout of all. And it's fun, so you never have that feeling of 'I have to do another 10 minutes on the treadmill,'" said the actress.