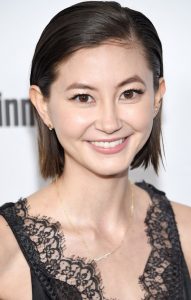 Hollywood star Kimiko Glenn debuted with a minor part in the 2012 movie Nous York. That same year, she appeared in the short film Galaxy Comics, as well as appeared in the film HairBrained. In 2013, she made her TV debut in the unsold pilot Holding Patterns. Her first credited role on the small screen was in an episode of Submissions Only. She next had one-time roles on Law and Order: Special Victims Unit and Seriously Distracted.
She gained substantial attention afterward, starring as Brook Soso on Orange Is the New Black. She played the said role from 2014 to 2017. At the same time, she played the recurring role of Miranda on Married. She also voiced the role of Stefani Stilton on BoJack Horseman. During this period, she became more active in the movies. She had performances in the films Construction, Nerve, and Like Father.
She went on to continue her career as a voice actress, landing roles on DuckTales and Voltron: Legendary Defender. More recently, she played Maya Lin in an episode of Drunk History. She currently stars as Harlow on the web series Liza on Demand, as well as joined the main cast of the show The Guest Book as Nikki.
The 30-year-old actress naturally eats clean because that's how she feels great from the inside out. Being a vegetarian, she follows a plant-based diet, which helps her maintain her healthy weight and protect her skin. Talking about her healthy lifestyle, she said: "I have genetically okay skin, which is nice. But I'll break out if I'm stressed or not eating well, or if I sleep with my makeup on."
Her diet mainly consists of salads and vegetables. She snacks on fruits and nuts, which helps a great deal in making her feel full in between meals. She also relies on nutritious smoothies to maintain her high energy levels throughout the day.