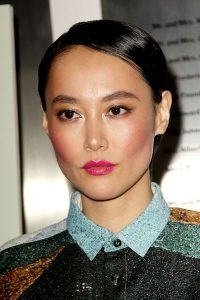 Japanese actress Rinko Kikuchi got her start in the late 1990s, appearing on Japanese films and shows. Some of her works before working in Hollywood were the Japanese features By Player, Mike Yokohama: A Forest with No Name, The Taste of Tea, and Arch Angels. She had her international breakthrough after landing the role of Chieko Wataya in the Hollywood film Babel in 2006. Her performance in the movie was highly acclaimed, earning her an Academy Award and Golden Globe nominations for Best Supporting Actress.
She next starred in the Hollywood film The Brothers Bloom, as well as in the Spanish movie Map of the Sounds of Tokyo. In 2010, she starred in the Japanese romantic film Norwegian Wood based on Haruki Murakami's novel of the same name. She then achieved further success in Hollywood for starring as Mako Mori in Pacific Rim. She next starred in the movies 47 Ronin and Kumiko, the Treasure Hunter. For the latter, she was nominated for an Independent Spirit Award for Best Actress. This year, she reprised her role as Mako Mori in the sequel Pacific Rim Uprising.
For her role in the movie Pacific Rim, the actress revealed she underwent vigorous physical training. Starring in an action-packed film with lots of giant robots fighting giant monsters, it should be something that her character in the movie entails. So, she did the work – packed some muscles and made herself stronger. So, how did she do it?
She said: "Before shooting, I [was] training like boot camp: weight lifting, running on the beach, martial arts, eating healthy foods. I've never done this before. I hate it."
"Chocolate, Pasta, some Japanese food, French fries. You know, I love that. But I couldn't eat [any of those] at all… Also, my trainer was really hard on me. I love him, but he was really hard on me," she added.