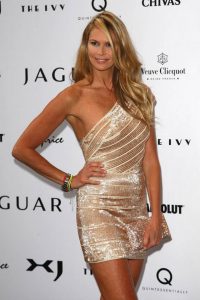 In the early '80s, Elle Macpherson got her start as a model after traveling to New York City. There, she was first signed on to Click Model Management. Her TV commercial for Tab instantly gained her attention in her native Australia. Soon after, she booked several magazine features such as on Elle, Harper's Bazaar, Marie Claire, and many others. Her frequent appearances on the cover of Elle helped her establish her high-profile status as a model.
Ultimately, she became further known for her cover appearances on the Sports Illustrated Swimsuit Issue. As a fashion model, she has walked the runways for Michael Kors, Perry Ellis, Todd Oldham, Calvin Klein, John Galliano, and Valentino. She landed ad campaigns for several prominent brands, including Guy Laroche, Ralph Lauren, Victorio & Lucchino, Omega, Pinko, H&M, and Victoria's Secret. Moreover, she was featured in commercials for Diet Coke, Budweiser, and KFC.
With her popularity, Macpherson eventually pursued acting. She first appeared with a minor role in the 1990 film Alice. Subsequently, she played the role of Sheela in 1994's Sirens. She had nudity in the film, which prompted the media to aggressively find nude photos of her. One of the ways this was attempted was by contacting her former boyfriends. In response, she appeared nude in the May 1994 issue of Playboy.
Apart from her diet plan, the Aussie model and actress takes care of her body by working out on a regular basis. Even without exercising, her lifestyle is pretty much an active one. For instance, she loves hanging out at the beach and going for swims. Right now, her workout routine consists of yoga and cardio. In between, she just tries to be as physically active as possible. She takes long walks, goes for a swim, plays sports, and engages in other outdoor activities.