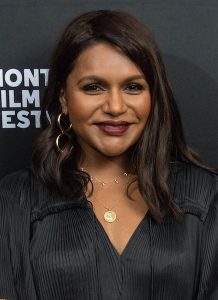 Actress and comedian Mindy Kaling had her career beginnings in 2005, debuting as Amy in the comedy film The 40-Year-Old Virgin. That same year, she started starring as Kelly Kapoor in The Office, gaining her prominence. She starred on the said show until 2013, while also serving as writer and executive producer.
Her stint in The Office led her to land more roles on film and TV. In the movies, she played supporting roles in License to Wed and Night at the Museum: Battle of the Smithsonian. In the 2010s, she had performances in the films No Strings Attached, The Five-Year Engagement, Wreck-It Ralph, This Is the End, and The Night Before. Betwwn 2012 and 2017, she played the lead Dr. Mindy Lahiri in the comedy series The Mindy Project.
After this, she had starring roles in the films A Wrinkle in Time and Ocean's 8. Her latest film role was in the comedy-drama film Late Night, which she also wrote and produced. In 2019, she created the web series Four Weddings and a Funeral. She also played Audra in some episodes of the Apple TV+ series The Morning Show. Recently, the web series Never Have I Ever, which she created, premiered on Netflix.
Mindy Kaling keeps herself strong and healthy by watching what she eats. She doesn't necessarily diet to the point of deprivation, but she focuses on healthy eating. "I like every food: sushi, Ethiopian, French, spicy, sweets. Plus, I was raised to clean my plate, and I've had to come to terms with the fact that I don't have to eat everything on there. So on a typical day, I keep it pretty healthy," said the actress-writer.
"In the morning, I try to have eggs because they're easy to cook even if you're as bad at cooking as I am. I'll poach an egg or two, have a third of an avocado and a piece of Ezekiel toast with butter. That fills me up for a really long time. I'll have a big salad for lunch with chicken or fish on top. For dinner, if I'm home, I'll cook something healthy like a piece of salmon with some spinach."