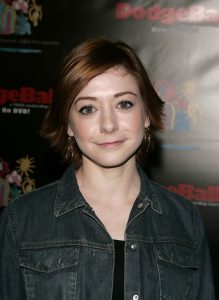 It was in 1986 that Hollywood actress Alyson Hannigan debuted on the screen. It was in the film Impure Thoughts. She next appeared as Jessie in the 1988 film My Stepmother Is an Alien. On TV, she had her first role as Jessie Harper on Free Spirit. In the 1990s, she had guest appearances on television, as well as starred in a few TV movies. In 1998, she appeared in the film Dead Man on Campus.
The following year, she rose to fame for playing Michelle Flaherty in the comedy film American Pie. She reprised her role in the sequels American Pie 2, American Wedding, and American Reunion. The rest of the 2000s saw her perform in the films Boys and Girls, Date Movie, and Farce of the Penguins. She also became widely known for starring as Willow Rosenberg on Buffy the Vampire Slayer, which she starred in from 1997 to 2003.
She next appeared as Trina Echolls in three episodes of Veronica Mars. It was, however, her role as Lily Aldrin on How I Met Your Mother that made her a television staple. Following this, she hosted the show Penn & Teller: Fool Us from 2016 to 2019. More recently, she played Ann Possible in the TV movie Kim Possible. She also starred in the feature film You Might Be the Killer.
The actress makes sure she's on her top shape by following an active lifestyle. Even with her crazy schedule, she tries her best to perform some workouts. Nonetheless, she prefers a more natural way of exercising rather than following a strict regimen. This helps a great deal when it comes to finding the motivation to work out. In an interview, she shared how she's fond of swimming and other fun activities that don't seem like a workout. That's why she engages in sports and more outdoor activities.