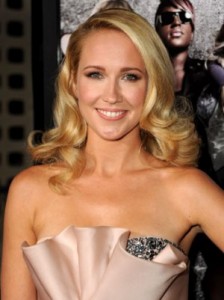 American actress-singer Anna Camp was already in her mid 20s when she began her acting career on the screen. Making her debut in 2007 with a few roles on films and television shows, her first notable role was as Sarah Newlin in True Blood, which introduced her to mainstream audiences in 2009. This was followed by a recurring character in Mad Men, which was also highly popular, adding up to her prominence. On the big screen, her first substantial performance was in The Help in 2011. The worldwide success of the musical film Pitch Perfect in 2012 cemented her fame as an actress and singer, too. Generally, she's mostly prolific on the small screen, with recurring roles in The Good Wife, Vegas, and How I Met Your Mother. In addition, she was a series regular in The Mindy Project's first season. Her most recent work was in the miniseries Saints & Strangers in 2015.
The 33-year-old actress is, well, surprisingly in her 30s. She looks so much younger than her actual age that she even played a college student in Pitch Perfect a few years ago. Standing at 5'5, it is apparent that the celebrity has a slender physique and while sh's already in her 30s, it seems her metabolism is still fast judging from her skinny figure. Of course, it is given that Anna has some dietary regimen that she follows to maintain her hot body. Surprisingly, she doesn't have any special or specific diet plans that she follows. She tries to be normal and natural as possible by just eating healthy foods.
With this, she makes sure she has balanced meals from morning to night time and has healthy snacks in between as well. She focuses on eating lean protein, which she gets from fish and chicken, and balances this out by eating lots of veggies and fruits. She makes it a point she has salad for lunch or dinner. When it comes to snacks, she's very fond of fruits and yogurt. Instead of eating unhealthy snacks like pizza and French fries, Anna tries to only eat the healthy ones so she looks and feels good. Of course, she has a cheat day. She also believes in the importance of giving in to your indulgences once in a while as long as discipline is still there. In an interview, Anna also admitted her love of ice cream, especially during the summer season.