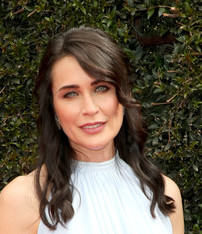 Hollywood star Rena Sofer debuted as Joyce Abernathy in the soap opera Another World during the late 1980s. From 1988 to 1991, she also starred as Amelia McKenzie Domeq in Guiding Light. After this, she had her first movie role in A Stranger Among Us. At the same time, she played a supporting role in the TV movie Saved by the Bell: Hawaiian Style.
Between 1993 and 1997, Sofer played the part of Lois Cerullo in General Hospital. During this period, she starred in the film Twin Sitters, as well as in the TV movie Hostile Advances: The Kerry Ellison Story. Later in 1998, she became known for her role as Eve Cleary in Melrose Place. After this, she starred as Suzanne Vandermeer in the short-lived series Oh, Grow Up. In the 2000s, she continued her career on TV.
She starred as Bonnie Hane in Ed, Grace Hall in The Chronicle, Vicki Costa in Just Shoot Me!, Susan Freeman in Coupling, Christie Dunbar in Blind Justice, Heidi Petrelli in Heroes, and Marilyn Bauer in 24. She also had performances in the films Traffic, March, and Rock Slyde. In 2010, she got the part of Margaret Allison Hart in NCIS. As of 2013, she stars as Quinn Fuller in the soap opera The Bold and the Beautiful.
Rena Sofer stays in shape working out and eating well. She doesn't necessarily follow any diet plans but she keeps it healthy by eating in moderation. "I find that when you do yoga, you don't crave unhealthy food. But I try to always let myself eat whatever I want," said the actress. "I have dessert or chocolate everyday, but I'll only have a few bites. I try to have a little bit of cereal in the morning, and then I always try to have protein for dinner too. But I eat pasta and stuff like that."