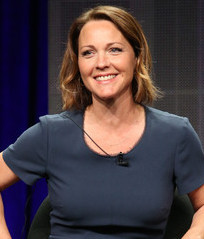 Hollywood actress Kelli Williams debuted in 1989. That year, she had brief roles in a couple of TV shows, as well as starred in th TV film The Case of the Hillside Stranglers. Shortly after, she landed the part of Mattie Walker in the TV drama Elvis. In 1990, she appeared in the straight-to-video film Zapped Again! She later appeared in the feature films Mr.
Jones and There Goes My Baby, as well as starred in several television movies. In 1995, she starred as Ellie in the short-lived series New York News. Her breakthrough role on television was as Lindsay Dole in the legal drama series The Practice. The show aired on ABC from 1997 to 2004. While on the show, she also had notable guest appearances in Scrubs and The Lyon's Den.
Following this, Williams starred as Dr. Natalie Durant in NBC's Medical Investigation. She later played Julia Switzer in Men in Trees and starred as Dr. Gillian Foster in Fox's Lie to Me. She subsequently had a performance in the 2012 film Any Day Now. Between 2012 and 2013, she starred as Jackie Clark in Army Wives and then starred as Allison McLean in the short-lived show Ties That Bind. In 2016, she appeared as Justina Marks in The Fosters.
Kelli Williams is all about healthy living. Apart from her exercise routine, she eats balanced meals each time. Her preferred foods for breakfast are usually egg, toast with almond butter, whole grains and oatmeal or cereal. For lunch, she likes her protein so it's either fish like salmon or tuna or chicken. She always has a huge bowl of salad too.
For dinner, she likes having a good bowl of pasta with red wine, or a sandwich and some soup. Despite her healthy eating habits, she's not one to resist a muffin or a chocolate once in a while. The actress also enjoys eating burger and fries, which she does during cheat day.