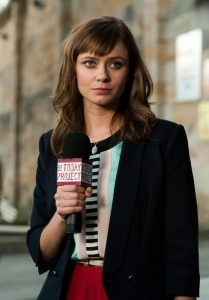 Australian actress Maeve Dermody had her beginnings in the 1990s debuting in the movie Breathing Under Water. However, she only pursued acting full-time in the 2000s, starting with performing in short films and guest-starring on television. She made her first TV appearance in an episode of White Collar Blue, followed by roles in Secretary, All Saints, and Monarch Cove. Her first starring role was in the independent thriller movie Black Water. She next appeared on the show The Chaser's War on Everything and appeared in the film Beautiful Kate.
She started the 2010s with a role in the film Griff the Invisible and the miniseries Paper Giants: The Birth of Cleo. She next guest-starred on Miss Fisher's Murder Mysteries and played Lee on Bikie Wars: Brothers in Arms. She next appeared as Polly Nesbitt on the series Rake. She next starred as Claire Simpson on the HBO series Serangoon Road. In 2015, she starred on the BBC One miniseries And Then There Were None, followed by a role in the film 2:22. She next played Grace Gibson on the ITV series Marcella, Prudence Sumner on Ripper Street, and Esther Rose on The Frankenstein Chronicles. Other film roles in the 2010s are Pawno and SS-GB.
The 32-year-old actress stays in shape by following an active lifestyle, which basically means she loves a good workout. As a matter of fact, exercising is her means of releasing all the stresses she gets. This is why it's important for her to try different forms of exercises to spice things up. "It's more about my state of mind than anything else," she shared. "Whenever I'm stressed or feel a lot of tension, I find the only way to get rid of it is to exercise. I do anything and everything: swim, walk, do yoga, walk my pup. And I ride my bike everywhere. I don't have a regimen I stick to – I don't tell myself I "must" do this or that. I've just always enjoyed being active," she said in an interview.