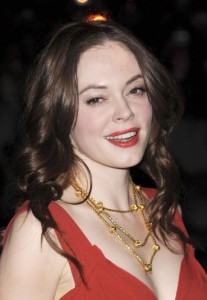 American actress Rose McGowan started her career in the early 1990s. After starring in a couple of films like The Doom Generation and Scream, she got her major break on television as one of the lead characters in Charmed in the 2000s. While busy working on the show, she was also able to continue her film career through appearing in a few movies like The Black Dahlia. Afterwards, she starred in Grindhouse's Planet Terror and Death Proof. She had a starring role in Conan the Barbarian (2011). Her most recent work on the big screen is in The Tell-Tale Heart (2014). She recently returned to television with a starring role in Chosen.
Rose is already in her 40s but most will agree that she still looks fit and vibrant. Standing at 5'4, the actress' curvaceous figure is hard to miss. After all these years, she was able to maintain her slender physique through workouts and healthy eating. Interestingly, Rose doesn't really put a limit in terms of eating what she wants. She doesn't deprive herself of the foods she loves, but just practices caution to the portion of food she intakes. Just like other stars, Rose had also undergone physical adjustments for movie parts.
In her case, she underwent special preparation for her role in Planet Terror due to its action-oriented nature. She worked out and was more cautious of her meals. Everything she did was worth it as her performance in the film was incredible, in addition to the excellence of her action scenes, which seemed very natural considering how fit and lean she was in the movie. Also, even though she practices portion control when it comes to her eating habits, Rose is fond of chocolates and consider these treats as her weakness. Of course, chocolates are still not exceptions to her portion control golden rule.