Early Life to Being Hollywood's Sweetheart
Kate Noelle "Katie" Holmes was born on December 18, 1978 in Toledo, Ohio, United States. She completed her studies from the all-female Notre Dame Academy in Toledo, where she was a 4.0 student. During her academic years, she has also appeared in school musicals at St. John's Jesuit, playing a waitress in Hello, Dolly! and Lola in Damn Yankees.
At the age of 14, she started taking classes at a modeling school. In 1996, at the age of 18, she was taken to the International Modeling and Talent Association competition held in New York City. She eventually was signed to an agent after performing a monologue from To Kill a Mockingbird. She was then accepted to Columbia University but only enrolled there for a summer session.
In 1997, she made her film debut with Ang Lee's The Ice Storm, where she played the role of Libbets Casey. That same year, she was asked to audition in Los Angeles for a new show named Dawson's Creek but was not able to make it due to a conflict in her schedule. She was instead permitted to audition on videotape where she read the part of Joey Potter and eventually won the role.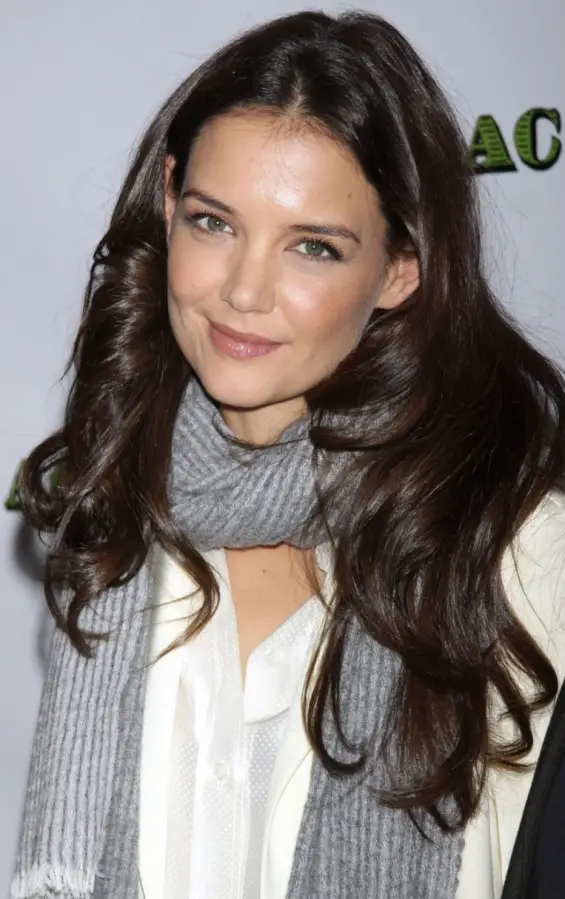 Though Dawson's Creek was met with mixed reviews, Holmes herself attracted national attention. Soon, she landed the covers of such magazines as Seventeen, TV Guide, and Rolling Stone. During the time that she was on Dawson's Creek, she appeared in her first leading role of Rachel Wagner in Disturbing Behavior, for which she received an MTV Movie Award for Best Breakthrough Performance and was nominated for a Saturn Award for Best Performance by a Younger Actor.
In 1999, she next appeared in the ensemble film Go, which received rave reviews and was commercially successful as well. That same year, she starred alongside Helen Mirren in Teaching Mrs. Tingle. She went on to star in two films in 2000: Wonder Boys and The Gift. Her performance in the former was praised while her acting in the latter was not well-received.
In 2002, she took the lead in the thriller Abandon, where she played a homicidal college student. Noted critics Roger Ebert and Todd McCarthy of Variety liked her performance but others slammed it. During the final season of Dawson's Creek, she played a substantial role in Joel Schumacher's thriller Phone Booth starring Colin Farrell. It was met with positive reviews and did not fail at the box office.
Following the finale of Dawson's Creek, she starred in the 2003 movie Pieces of April. Her performance in the film was critically praised and for which she also won the Satellite Award for Best Actress. She was also considered for the role of of Christine Daaé in 2004's The Phantom of the Opera but it eventually went to Emmy Rossum.
She subsequently played the President's daughter in the film First Daughter to lukewarm reception and ticket sales. In 2005, she portrayed Rachel Dawes in Batman Begins, her most successful film to date. She garnered a Golden Raspberry nomination for Worst Actress but also received positive feedback, earning a Saturn Award nomination for Best Supporting Actress in the same role.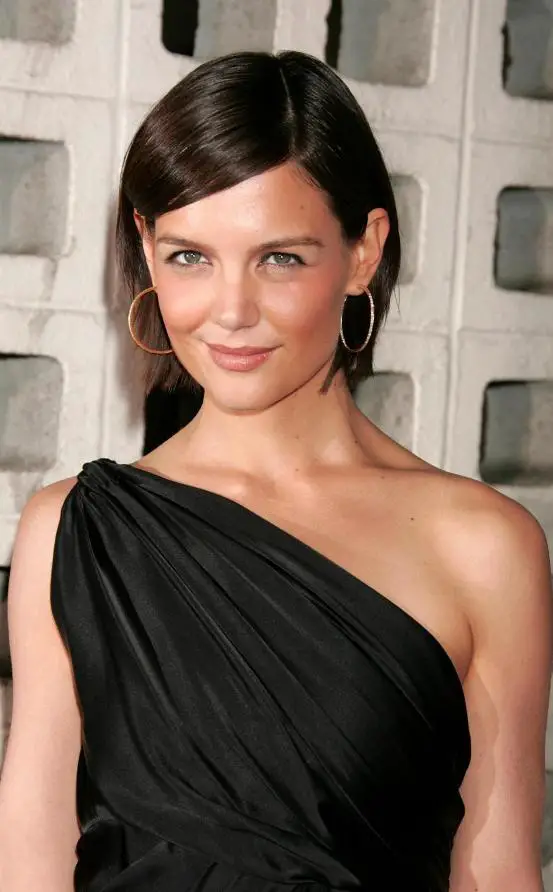 She has since starred in a variety of feature films including Thank You for Smoking, Mad Money, The Extra Man, The Romantics, Don't Be Afraid of the Dark, The Son of No One and Jack and Jill, where her acting was widely criticized, receiving the Golden Raspberry Award for Worst Screen Couple/Ensemble and a Golden Raspberry nomination for Worst Supporting Actress. She then returned to television with guest roles in such shows as Eli Stone and How I Met Your Mother. She then portrayed Jackie Kennedy in the miniseries The Kennedys.
Plastic Surgery and Personal Relationships
Katie Holmes' romantic relationships have also attracted a great deal of interest and have been widely covered by the press. She first dated her Dawson's Creek co-star Joshua Jackson early in the show's run. In 2000, she met actor Chris Klein and the two got engaged in late 2003. However, in early 2005 she and Klein broke their engagement and ended their relationship.
She then started dating Tom Cruise weeks after her relationship with Klein ended. The actress who was raised a Roman Catholic, started studying Scientology briefly after the couple began dating. They soon became engaged in June 2005. In April 2006, Holmes gave birth to their first daughter, Suri Cruise. They were married on November 18, 2006 in a Scientology ceremony. On June 29, 2012, after five years of marriage, Holmes filed for divorce from Cruise.
Aside from her personal relationships, the 35-year-old actress has also caused controversies for her alleged undergoing of cosmetic procedures. Rumors of a rhinoplasty circulated online, with previous and recent photos being compared to justify the claims. After her marriage to Tom Cruise, many people were convinced that she did not just embrace a new religion, but also embraced a new look.
It was further instigated after she was spotted with Victoria Beckham at several fashion shows in Paris. Holmes, who previously had a shorter nose with a rounder ridge and tip has now a more elongated nose with a narrower, straighter bridge and slimmed-out tip. Plastic surgeon Dr. Anthony Youn supported the claim, stating: "She appears to have had a rhinoplasty which has thinned the tip of her nose and the dorsum." Aside from nose job, it has also been reported that the former Mrs. Cruise underwent cheek implants and a brow lift. Despite the persistence of such rumors, Holmes has not yet confirmed such reports.