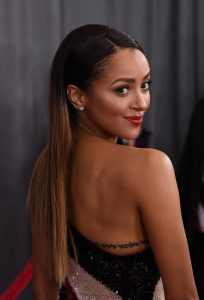 It was in 1998 that American actress Kat Graham had started her career in Hollywood. This was in the movie The Parent Trap. A few years later in 2002, she made her first television gig in Lizzie McGuire. She later landed other one-episode roles on various shows. She also appeared as a dancer in the film Johnson Family Vacation. Her first recurring role was as Allison in Hannah Montana. In 2009, she gained mainstream fame after she began playing the role of Bonnie Bennett in The Vampire Diaries.
She was part of the show's main cast until its finale in 2017. Her role in The Vampire Diaries has since made her a television staple. At the same time, she also played Jackie in the film 17 Again. While on the show, she has also acted in the movies The Roommate, Honey 2, Boogie Town, and Addicted. She also portrayed Jada Pinkett in the 2017 movie All Eyez on Me. This year, she started being the voice of April O'Neil in the animated series Rise of the Teenage Mutant Ninja Turtles.
The 28-year-old actress stays in shape by sticking to an active lifestyle. Basically, she works out on a regular basis. She does so not only to maintain a slender figure but to also stay fit and healthy in general. Being a professional dancer, being active is already a part of her daily routine. She has an on-the-go lifestyle, which means that she's always on the move. But even when she's busy, she doesn't skip her workout sessions. Besides, she knows she can exercise anywhere. It doesn't have to be in a gym.
In an interview, she got candid about her fitness habits. First, she said that she mostly follows Instagram fitness accounts to help her with motivating herself. When asked how often she exercises in a week, she answered: "Four or five times a week. My workout often includes running two to five miles." What about her all-time favorite exercise? Being a dancer, it should only be fitting that her go-to workout is dancing.