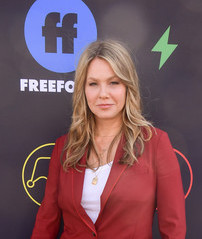 Starting her Hollywood career in the '80s, Andrea Roth first played one-time roles in various shows. In the movies, she made her debut as an extra in an independent film called The Jitters. After more one-time appearances on television, she finally landed her first starring role as Tessa Vargas in the TV drama E.N.G. It aired on TV from 1992 to 1993. She also appeared in the film Seed People. Later in 1994, she played Diana Powers / NeuroBrain in the TV series RoboCop.
In the 2000s, Roth landed roles in the films Highwaymen, War, The Skeptic, The Collector, and A Golden Christmas. It was also during this period that she starred as Janet Gavin in the FX series Rescue Me, which became her breakthrough on television. At the same time, she played recurring role Kelly Davidson in Blue Bloods. After Rescue Me ended in 2011, she joined the main cast of Ringer as Catherine Martin.
She also starred in the television shows Rogue and Ascension. More recently, she played Noelle Davis in several episodes of 13 Reasons Why. Simultaneously, she appeared as Melissa Bowen in the superhero series Cloak & Dagger. In 2019, the actress portrayed Catherine Oxenberg in the TV movie Escaping the NXIVM Cult: A Mother's Fight to Save Her Daughter.
Andrea Roth keeps her body in top shape by being consistent with her workout routine. She stays active as part of her lifestyle. As for her diet plan, the actress doesn't really follow any. In an interview, she said she's never been strict when it comes to her diet. However, she is also not that into sweets so she's never been conscious of her sugar intake. Most of the time, she sticks to a balanced diet with a major focus on lean proteins, fruits and vegetables. Nonetheless, she still enjoys the occasional big steak.