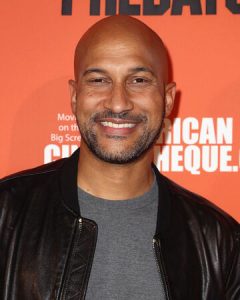 Hollywood actor and comedian Keegan-Michael Key first appeared in the 1999 film Get the Hell Out of Hamtown. In the 2000s, he appeared in an episode of several shows, including ER and I'm With Her. His breakthrough was as a regular cast member of the sketch comedy show Mad TV. At the same time, he was the host of the show The Planet's Funniest Animals. He also appeared in several episodes of Reno 911!, as well as starred in the short-lived series Gary Unmarried.
Around this time he also played small roles in some films. He appeared as Duane in the comedy film Role Models. At the beginning of the 2010s, he had roles in the movies Just Go with It, Wanderlust, Hell Baby, and Afternoon Delight. From 2012 to 2015, he starred in the sketch comedy series Key & Peele, which he also co-created. Simultaneously, he played Joe, a recurring character in Parks and Recreation.
From 2014 to 2017, he starred as Mark Rodriguez in the comedy series Playing House. At that same time, he played FBI Special Agent Bill Budge in some episodes of Fargo. He next played the role of Ace in the TV show The Hotwives. As of 2015, he stars with a voice role in the animated show SuperMansion. Meanwhile, other film roles were in Teacher of the Year, Horrible Bosses 2, Pitch Perfect 2, Tomorrowland, Freaks of Nature, Keanu, Why Him?, The Predator, and many others. As of 2020, he is the presenter of the show Game On!
Keegan-Michael Key keeps in top shape by sticking to an active lifestyle. He follows a vigorous workout routine, for sure. In fact, he admits to being obsessed with fitness. "I'm very, very, very interested in martial arts," said the actor. "I don't know if people would be surprised by this or not, but I'm kind of into nutrition and weight lifting. I know I'm kind of a slender man, but the human physique fascinates me, and learning about metabolism."