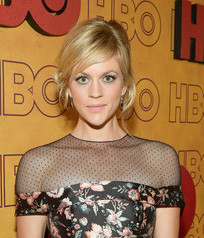 Georgia King first appeared as Rosamond Oliver in an episode of the 2006 limited series Jane Eyre. She next acted in the television film The Shadow in the North. She next played the role of Harriet in the teen comedy movie Wild Child, as well as played Lady Teazle in The Duchess. At the same time, she starred as Pet Meagles / Pet Gowan in the miniseries Little Dorrit.
She went on to appear in the films Tormented, Tanner Hall, St Trinian's 2: The Legend of Fritton's Gold, and The Academy Part 2: First Impressions. Also, she played Weird Bloke in some episodes of Off the Hook. In the 2010s, she appeared as Carmen in 3 episodes of Sugartown. She later guest-starred in Felix and Murdo, Sinbad, and Skins. From 2012 to 2013, she starred as Goldie Clemmons in the sitcom The New Normal.
Around this period, King also had performances in some films, which include Burke and Hare, Chalet Girl, One Day, Cockneys vs Zombies, and Austeland. Her most recent work on the big screen was in 2015's Kill Your Friends. Back on television, she starred as Amanda Snodgrass in the comedy show Vice Principals. This year, she starred as Kendra in the web series Royalties and Lianne in another web program, Devs.
Georgia King keeps her body fit and healthy by sticking to a clean diet plan, which is mostly plant-based. She hasn't totally removed meat from her diet but she's having it less and less these days. She's also cutting back on dairy, sugar, and carbs. She's pleased with her efforts to try to stay healthier because she can feel the difference not only on how she looks but on how she feels.
Wanting to consume more fruits and vegetables, she's big on juicing and smoothies. As for her protein intake, she prefers plant-based sources like soya, nuts, beans, and some vegetables like broccoli. When eating meat, she prefers fish or chicken as they're healthier than pork or beef. Her breakfast is usually granola with almond milk or oatmeal with fruits. For lunch, she sometimes has fish or chicken and a bog bowl of salad, while she prefers her dinner to be lighter.