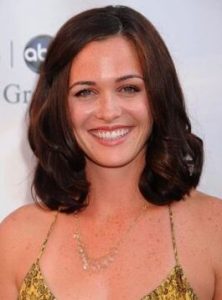 Hollywood star Christine Woods had her career beginnings in 2005, debuting in an episode of CSI: Miami. This was followed by more one-time roles in such television shows as The Game, How I Met Your Mother, Cold Case, and NCIS, among others. In 2007, she made her first movie role in The Haunting of Marsten Manor. It was followed by the B-movie called Sveener and the Shmiel. In 2009, her first notable role on television came, playing Janis Hawk in the ABC series FlashForward.
She next starred as Julia in the short-lived show Perfect Couples. After this, she guest-starred in The Closer, Castle, How to Be a Gentleman, and Necessary Roughness. She went on to play Janie in some episodes of Go On, as well as starred as Jessica Vanderhoff in the HBO sitcom Hello Ladies. In 2014, Woods played Officer Dawn Lerner in 5 episodes of The Walking Dead. Shortly after, she played Liz in About a Boy.
More recurring gigs came such as in The Odd Couple, Man with a Plan, and Brockmire. In the 2010s, Woods became more active on the big screen. In 2017 alone, she had roles in 3 films: I Don't Feel at Home in This World Anymore, Handsome: A Netflix Mystery Movie, and Home Again. She later had performances in the 2019 films Paddleton and Imaginary Order. More recently, she played Lucretia Colder in the USA Network series Briarpatch.
Christine Woods stays in shape by following a healthy lifestyle. She works out to keep her body fit and strong. More importantly, she sticks to a clean diet plan. Proper nutrition is crucial not just for maintaining a healthy weight, but for her overall well-being as well. And that's why she usually follows a plant-based diet with proteins coming from healthier options like fish and chicken. She snacks on fruits, smoothies, and nuts in between to avoid eating big meals. Nonetheless, she's not into strict diets.