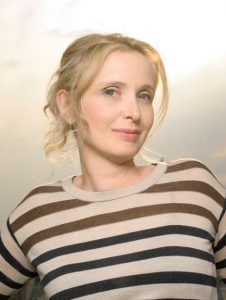 French-American actress Julie Delpy got her acting start in the late 1970s in France. In 1986, she starred int he French film Mauvais Sang, which earned her a César Award nomination for Most Promising Actress. She next played the lead in the movie Beatrice, gaining her another César Award nomination. In 1991, she starred in her first English-language project in the film Voyager, for which she was nominated for a European Film Award for Best Actress. She later starred in the Hollywood film The Three Musketeers. Her Hollywood breakthrough came as Céline in Richard Linklater's film Before Sunrise.
She next starred in An American Werewolf in Paris. In the 2000s, she starred in the films Sand, Investigating Sex, as well as reprised her role as Céline in Before Sunset. She also played Caroline Frankenstein on the miniseries Frankenstein and played Nicole in 7 episodes of the US series ER. She later ventured into writing, directing, and producing with the films 2 Days in Paris, The Countess, and 2 Days in New York. In 2013, she reprised her role as Céline in Before Midnight. For this, she was nominated for a Golden Globe for Best Actress. Her latest roles in the movies were in Wiener-Dog and The Bachelor.
The 48-year-old actress stays in shape by eating healthily. "Food to me represents feeling good. I can't stand bad food – things like sandwiches, junk food, ice cream, over-creamy stuff, and greasy, fried food," she said. For her, living well is all about eating nutritious foods. She said: "For whatever is wrong in my life I will have a good meal and feel better. Some people need drugs and alcohol; I just need a good meal."
Eating healthily for her is not the same as dieting, which is all about not eating in order to lose weight. But she admitted she dieted before when she started acting and didn't like it. " I hate dieting because I love food. Dieting is the most boring thing in the world," she said.