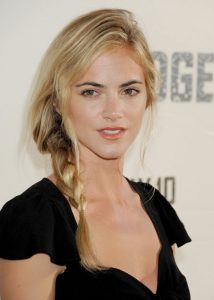 Hollywood star Emily Wickersham had her beginnings when she made her debut in Late Night with David Letterman in 2006. That same period, she landed her first recurring role as Rhiannon Flammer in The Sopranos. Subsequently, she made her film debut in Gardener of Eden. Her next films were in Definitely, Maybe, How I Got Lost, and Remember Me.
Apart from these, she also starred in the TV movies Mitch Albom's for One More Day and Taking Chance. She continued her work in the movies with performances in I Am Number Four and Gone. In 2013, she became more well-known after landing the role of Eleanor "Ellie" Bishop in NCIS's latest seasons. She also played the said role in the spin-off NCIS: New Orleans. Her latest movie was in 2015's Glitch.
For the NCIS actress, it is important to maintain a balanced and a well-rounded diet in order to stay fit and healthy. It is also crucial that her diet mainly consists of nutritious foods. When asked about how she practices beauty inside out, she said: "For me, it's about feeling good first… and I've realized that it comes from what I choose to eat. Once I started paying attention to what I was eating and becoming conscious of what made me feel good or bad, it was a game changer."
"I realized I spent a lot of time not being so in tune with my body…it seems like an obvious thing to be in tune with, but I actually think a lot of people aren't. When I eat a ton of sugar or wheat I feel so sluggish and icky and it all shows on my skin. When I eat clean, I notice a big difference in my energy and just the way I feel generally," she went on to say.